Our Mission Statement
---
To cultivate an appreciation of the cultural heritage present in Manassas, Manassas Park and Prince William County, Virginia.
To promote cross-cultural understanding.
To instruct all citizens anti-bias skills, cultural diversity and basic human rights.
To educate the public about the laws and consequences of hate crimes and other hate activity.
To involve our community more actively in preventing, stopping, and responding to these crimes and activities, and
To involve all citizens in the active realization of these goals.

Building Vibrant Communities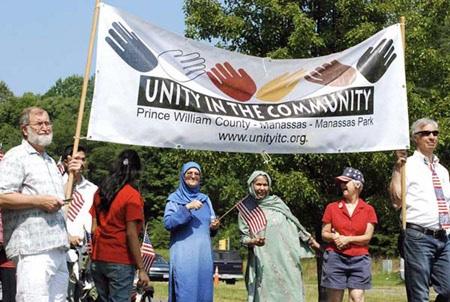 Together we can do this important work in our communities. Sadly every day, we are reminded that injustice and racial prejudice are severely infused in our society.
Reaching out into the community through service and fostering friendships beyond race, religion and class is a proactive way in which we live the principles we believe. Service is a bond that brings people together; like love, it does not arise from obligation but from a selfless concern for the well-being of others.
2023 Events
Unity In The Community monthly meetings are held the 3rd Sunday of every month @ 6:30pm unless otherwise posted
* Monthly meeting agenda will provide detailed meeting topics
January 29th: "Fighting Antisemitism" presented by Debbie Rubenstein
February 19th: "Saving Liberty" presented by EJ Scott, VP, PWC NAACP & member, Preservation Virginia, Board of Directors
March 19th: "Here's To Strong Women" Celebrating Woman's History Month
April 16th:

Autism Awareness
Earth Day
Presentation TBD

August 12th: "Anne and Emmett": Janet Langhart Cohen's one-act play and Congregation Ner Shalom, Woodbridge, VA. An imaginary conversation between Anne Frank and Emmett Till, both victims of racial intolerance and hate. – More event details on event tickets to come.
August 19th: "Heroes For Housing": Bicyclists, Families, and Friends from around the state are invited to join a one-day, 10-mile Bicycle Ride Fundraiser at Prince William Forest Park: 18170 Park Entrance Rd., Triangle, VA, 22172 at 7:00 am.
September 16th: Georgetown South's 1st Annual Hispanic Heritage Day, Manassas VA – stay tuned for details
September 19th: International Day of Prayer for Peace hosted by First A.M.E., Manassas VA – theme "Actions of Peace" – stay tuned for details
October 15th, 3 PM at Dar al Noor: Screening and discussion of Repairing the World, a documentary about the Tree of Life shooting and how Pittsburgh came together as a community. See flyer above. Register here: https://docs.google.com/forms/d/1_n-XJ9qk0fi7vJo8IDbohsaAvrIDGVEu8SFBkajxIv4/edit
Calendar made by StriveStudio, visit their shop here.